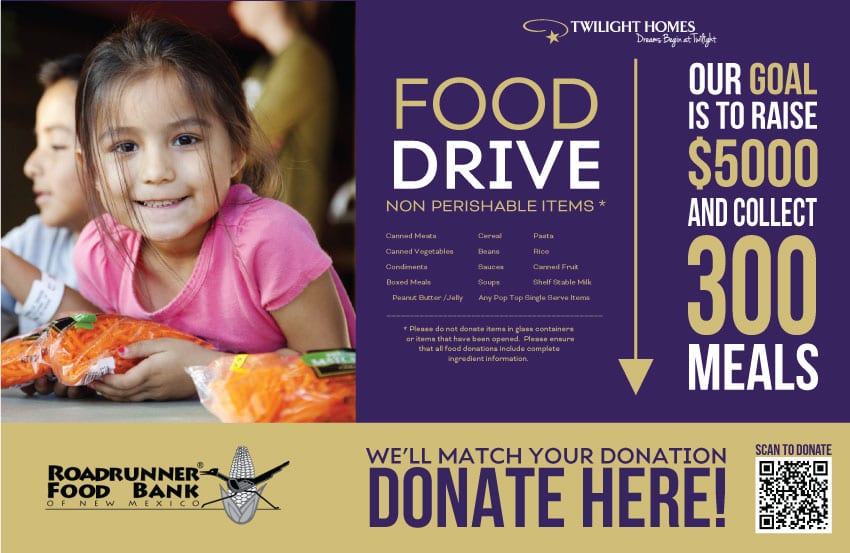 ROADRUNNER FOOD BANK FOOD
Give Back 2020 | In the Community
---
That's why we're hosting our first ever Food and Fund Drive with Roadrunner Food Bank. Roadrunner is the largest non-profit food bank in New Mexico. One in four children in our state struggle with hunger, and we want to do what we can to change that. Twilight Homes set our collection goal to 250 pounds of food between November 15th and December 20th. That is the equivalent of 300 meals for local families in need! All we have to do is collect 54 cans of food at each of our model homes to reach our goal.
Get Involved and Join Us – We'll Match Your Donation!

A $20 donation provides 100 meals! Twilight Homes set our goal at $5,000. Please help us provide 25,000 meals for New Mexico families! 

Every dollar raised provides five meals to families in need. 
Please share this with your friends and family! Now, more than ever, we need to come together as a community to help support one another.
Rio Rancho
4465 Golden Eagle Loop NE, Rio Rancho, NM 87144
2598 Camino Plata Loop NE, Rio Rancho, NM 87144
6055 Redondo Sierra Vista NE, Rio Rancho, NM 87144
217 Piedra Lisa Rd, Bernalillo, NM 87004
5228 Via Nube, Santa Fe, NM 87507 
---
Buying a Home is a Personal Experience
Twilight Homes strives to make the home buying experience a personal one, and we are highly motivated to deliver the best in customer satisfaction.
When you're looking for a new home, look no further than Twilight Homes, and come see why Twilight is no stranger to awards!